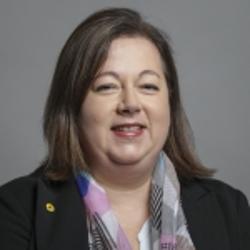 Kirsten Oswald

- Hansard - - - Excerpts
I am grateful to the hon. Gentleman for making that point, because it reinforces one of my earlier points. I absolutely support any and all attempts to stop smoking, and all supports that assist people. That is really important. We all know the harm that tobacco does, but I point the hon. Gentleman to the comments I have cited from bodies such as the World Health Organisation, which has concerns about the road to tobacco.

We need a nuanced approach. For instance, I would be interested in having a further conversation and seeing more research on vapes that are not disposable. I think that is a conversation worth having. I am not here to say that no one should ever use vapes; that is absolutely not my aim. My aim is to look specifically at disposable vapes and ask whether we are travelling down the right path.

We have heard about the number of young people who are vaping and the concerns about the move to tobacco, which the hon. Gentleman and I are both very concerned about because of the health implications. Are we really expecting the same young people to have a disposable vape, use it and then get themselves to a recycling centre, so that they can properly dispose of them? To me, that seems somewhat unlikely, to say the least. It is really important that we try to separate the two issues, because they are both really important, and all discussions about smoking cessation should be serious and taken seriously.

In addition to the disposal of such vapes, which I will come to a little later, we should obviously be concerned by their acquisition and use in the first place. I am really concerned and perplexed—this is perhaps a sign of my age—by reports of younger people who have never smoked but are now vaping. I just do not understand that, because I am not a young person, but I suspect that the hon. Gentleman and I would agree that this is not the direction of travel that we want to see. We want people to stop smoking, to be supported to do that, and not to move in a different direction.

As I said, I am not here today to take issue with vaping per se. I would like to see more research into the topic as a whole, but I am suggesting that having far fewer disposable vapes is going to be an immediate necessity, because of the damaging waste that is being created by the use of these devices. Reusable vapes might fill some of the gaps, should that be necessary, but I am really concerned about the environmental impact of the disposable vape industry, and there is a bit of a vacuum where there should be scrutiny on that topic. Regardless of our various views on the issue, we would probably all accept that having a bit of scrutiny would be sensible.

I recently used a written parliamentary question to ask the Secretary of State for the Environment, Food and Rural Affairs what assessment had been made of the environmental impact of vaping products. The answer was none—no environmental assessment at all. Nobody who has seen the sheer quantity of cast-off disposable vapes will think that is acceptable. I do not think that is okay, and we need to up our game quickly. Disposable vapes are fundamentally electrical items, and they contain precious metals such as lithium. We should know in this day and age that lithium is a critical material for our green transition, but it is simply going to waste in devices that are not being disposed of properly.

Disposable vapes are also another unnecessary single use of plastic, which is a material that, along with the batteries and the nicotine that disposable vapes contain, is hazardous to the environment and wildlife when littered. I have heard numerous reports of pets and wildlife in marine areas being affected by this new type of plastic waste. According to the Scottish Environment Protection Agency, if a battery is disposed of incorrectly—remember that almost all of them are disposed of incorrectly—heavy metals might leak into the ground when the battery casing corrodes. That can cause soil and water pollution, and it can endanger wildlife and human health. Again, most of the vapes are disposed of incorrectly, so this is not a theoretical issue.

I am grateful to the UK Vaping Industry Association for getting in touch with me when it learned that I had secured this debate, and it made some valid points about how some people successfully stop smoking via vaping, as we have heard, and I do not take away from that in any way. However, I was a bit disappointed by the argument that under-age concerns are not exclusive to vapes. I agree with that—it is absolutely true—but I do not think that is really the point, and it cannot be the case that we cannot look for urgent action because it could put people off stopping smoking. It cannot be beyond us both to support smoking cessation in a practical and meaningful way, and to stop making such a colossal mess of the planet.

In all of this, there must be a really important role for manufacturers, and the industry as a whole, in pushing forward better ways to operate. They do not need to wait for someone to make them do the right thing; they could do the right thing and do better right now, and I am sure we would all be very grateful. I was surprised to hear comments from the vape manufacturer Riot on a recent BBC Radio 5 Live show. When pressed about the actual rate of recycling of its products, its representative said that it was in fractions of 1%. I absolutely respect the company for taking the time to engage with this discussion, which is really important, but that tiny wee recycling rate is the reality.

That is the crux of the problem, why we are having the debate and why we are seeing all these things lying around. People are simply not recycling them because it is too hard, because they do not know how, and because the things are not ideally set up to be recycled. We have to be realistic about that. We just about need a degree in vape decommissioning to work out what to do, where to go and how to go about it. Dealing properly with what are meant to be disposable items of convenience—that is their unique selling point—is actually a monumental inconvenience to their users. Manufacturers know that, but they seem much more interested in making sales than stopping the obvious waste issues that arise from them.

To get an idea of what we are talking about, at the moment the discarded disposables mean that 10 tonnes of lithium are sent to landfill every year. We must remember that this is a growing market and that those are only the bits that are being sent to landfill, not the bits that are being thrown around the place. That is already at a level equivalent to the lithium batteries inside 1,200 electric vehicles.

Concerns are also growing about what that means more broadly. Some people suggest that the material is likely to contribute to fires at landfill sites, so a range of investigations needs to take place. Indeed, it is no wonder that 18 groups that advocate on environmental and health issues recently wrote an open letter to the UK Government, published by Green Alliance, looking for a ban on disposable vapes. I am grateful to all the organisations, which include Surfers Against Sewage, the Royal College of Paediatrics and Child Health, the Royal Society for the Prevention of Cruelty to Animals, Wildlife and Countryside Link and others. It is really important that we look at the matter. We need to very seriously take on board the points those organisations make about the importance of not squandering our precious resources, such as lithium, in such a cavalier and unthinking way.

The organisations are also correct that there is "a huge waste issue" associated with disposable vapes. In Scotland, we are moving towards a circular economy and a waste-free society. We have ambitious targets for recycling, but as part of that, specific guidance on how to recycle vapes is increasingly vital. What will the UK Government do to make the whole process easier? I know that the Department for Environment, Food and Rural Affairs says that the UK Government will set out plans for reforming the existing waste electrical and electronic equipment regulations "in due course". "In due course" needs to come now, because there is a clear and significant environmental impact, there is uncertainty and confusion, and that allows concerted inaction on the issue to take root. What are the UK Government doing to help be part of and drive forward the conversation on how vaping markets are targeting our young people? How are we going to act on plastic waste and pollution and on the failure of any proper recycling strategy for lithium batteries?

Failure to act means we are knowingly causing damage to our environment. It means that precious resources, such as lithium, which are finite and dangerous when disposed of improperly are not being properly managed. The situation has arrived at pace; it has all come upon us quite quickly. However, we need to deal with it in the same way. We need to get a move on and try and work out the best way forward for the planet and the people who use vapes. We either sort the situation out so disposable vapes are really disposable, with proper recycling not only theoretically possible but practically happening, or we get rid of them altogether. None of us can afford for things to carry on as they are.