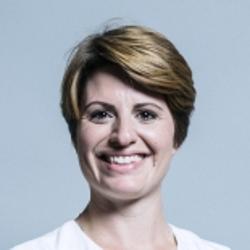 Emma Hardy (Kingston upon Hull West and Hessle) (Lab)

- Hansard - -
It is always a pleasure to serve under your chairmanship, Sir David. I thank everyone who took part in the debate. My hon. Friend the Member for—I am going to say his constituency wrong—Islwyn (Chris Evans) highlighted the amount of debt that students leave university with; issues raised by students; the anger and resentment that they feel at the moment; and the issue of mental health support. It is a shocking statistic that every week a student takes their own life. Regardless of any political opinions, we should be united in saying that we need to do something about that, so I thank my hon. Friend for drawing it to our attention.

The right hon. Member for Tatton (Esther McVey) was right to highlight the cost of a university degree and the need to move publications online and make things more accessible. I agree on the need for openness and honesty about the experience that students can expect, so that we do not repeat this problem in January and they have full knowledge of what to expect before they get there. Then they can make the decision, if they wish, to go to the Open University or their local university.

We heard from my hon. Friend the Member for Streatham (Bell Ribeiro-Addy). As people know, the Labour party is against the use of tuition fees. My hon. Friend spoke about the impact on people from lower socioeconomic backgrounds, how they often have to spend longer repaying the debt, and how the system is therefore very unfair, and about the need to plan properly for the second wave. We must not repeat this problem in January.

My hon. Friend the Member for Leicester East (Claudia Webbe) highlighted the damage from not having a plan for the return in September; the need for test and trace to protect staff and students; the difficulties that of course people have experienced in Leicester, given the restrictions that they have been under for an incredibly long time; and the need for us to recognise publicly the value of our universities. We all benefit from an educated society.

We heard from my hon. Friend the Member for Liverpool, Riverside (Kim Johnson). I am slightly biased because I went to the University of Liverpool, but it is a great city to go to. She referred to shocking statistics on the decline in student satisfaction; the need for effective test, track and trace; the issue of mental health; and the problems that there have been with accommodation.

We heard from my hon. Friend the Member for York Central (Rachael Maskell), whose words are always so considered, thoughtful and thought-provoking. I really loved the final message in her speech, about getting this right for the future. She spoke about the need for people to be part of a co-production, working together towards academic success, and about how marketisation has damaged that relationship, which is so important.

I am, of course, grateful to the Petitions Committee for bringing this matter forward. I thank all the staff working in universities at the moment, given the incredibly difficult situation that they face. Often, the discourse is just about the tutors working in universities, but of course there are also the people working in catering, who are finding themselves redundant at the moment, the people working in security, the people working in the libraries and the people working in administration. Many of the staff in those jobs are currently on furlough, because of the uncertain situation we are in. I express our thanks to each and every one of them.

The existence of these petitions will come as no surprise to anyone who has been following the unfolding events in higher education. Many students are angry and frustrated, and they have every right to feel like that. This year's intake had to deal with the fiasco over A-levels, which resulted from a combination of stubbornness and a prejudice that meant that the Government could not bring themselves to trust the judgment of teachers. Just like the need to fairly determine GCSE and A-level grades, the reopening of universities in the autumn was bound to need addressing. The movement of almost 2 million people around the UK and their randomised mixing in confined shared spaces such as halls of residence and houses in multiple occupancy were guaranteed to result in a rise in covid cases. Such mass migration could have been seriously contemplated only in the presence of a fully functioning test, track and trace system, as many hon. Members mentioned. That means one that is fast, accurate and easily accessible, but what we have had has been utterly shambolic.

At the time when universities reopened, people were being asked to drive hundreds of miles for a test while local test centres stood empty. Universities had been promised thousands of testing kits, but they never materialised. The mushrooming of cases was predictable and predicted. It led to the experience that students were promised and so naturally expected being radically different from that which they had to endure. For this experience, they are being required to take on large amounts of debt by the current funding system, which was also mentioned by hon. Members. The system not only leaves students owing debts that in large part will never be repaid, but leaves universities competing in a marketplace for students and reliant on the income that each student brings with their fees. Labour has said time and again that that system is neither fair nor sustainable. The current situation makes that abundantly clear.

The financial pressures on students were a matter of great concern before the end of the last academic year, and that is set to continue. The NUS survey of 10,000 students in March and its follow-up in September showed that 50% of them relied on income from employment to support themselves. Half reported that

"the income of someone who supports them financially has been impacted by Covid-19",

and three quarters expected to struggle financially over the coming months.

Students cannot top up with universal credit, and yet there has been no acknowledgement by the Government of the impact of, first, the tier 2 and tier 3 restrictions or, now, the national lockdown on a student's ability to support themselves financially. Many students with part-time work in bars or restaurants would work right up to Christmas before returning home. Now they must return by 9 December, which is another blow to their finances that has been unremarked on by this Government. A bad situation is set to get worse while the Government sit on their hands.

The insecurity coming from the struggle to pay bills, find rent and put food on the table can only make worse the mental stress resulting from the chaotic circumstances around isolation and accommodation lockdowns. A huge group of young people have found themselves away from home for the first time, with limited opportunities to make new connections and build friendships. This is an extremely toxic situation, and I am deeply concerned for those who found themselves adrift in it.

In a letter I received in September, the Minister assured me that the Government's "commitment to supporting students" is "unwavering" and demonstrated in "a range of initiatives" put in place to support "financial hardship" and "mental health". However, I see no evidence of such commitment. The only thing that could be described as "unwavering" has been use of the figure of £256 million, as highlighted by Jim Dickinson from Wonkhe.

The £256 million has done an awful lot of work. It was first employed on 27 April, in answer to a question on what support the Government were providing to help students meet the extra costs involved in the switch to online learning, and then on 1 May to help prevent digital poverty; on 6 May to provide laptops to vulnerable and disadvantaged young people; on 11 May for employment and student income support; on 13 May to combat any increase in the drop-out rate of low-income students; and on 15 May to provide emergency hardship grants to university students from low-income households —this is all the same fund of money, by the way.

That £256 million was also employed on 8 May to support rent repayments for unneeded student accommodation and on 19 May to support those at risk of homelessness. On 21 May, it was accommodation costs again, and on 29 May it was making educational websites free—that was a great proposal by Jisc, which I hope the Minister revisits. The money was back on 2 June for laptops and 4G access; on 9 June to support students who have lost income from job losses; on 17 June for the reimbursement of students who have paid accommodation deposits; and on 18 June to support students in institutions that have moved to online-only teaching.

The same pot of money went, on 23 June, to support repayments on unneeded student accommodation again; on 29 June to provide support for international students in difficulty; and on 30 June to help with widening participation and access. Interestingly, that widening participation and access is the actual purpose of the fund of money, but on 2 July it was to provide support for mental health; on 20 July, incredibly, to support UK universities facing financial failure; and on 21 July to act as a justification for the lack of bespoke support packages for universities.

On 7 September, the money is now the answer to postgraduate student support, both PhD and master's, in two separate answers. On the same date, it is doing double duty as support for students facing hardship given the lack of part-time jobs. On 9 September, it is helping universities with their applications from students from disadvantaged backgrounds, and on 16 September it is helping universities with resources to combat the covid-19 outbreak. On 18 September, it is back supporting student mental health. On 25 September, it is to support access to online learning, now for the new first-year students. On 29 September, it is to support university students unable to provide a guarantor to secure their accommodation. That was a brand-new one—I had not heard it used for that before.

The 29 September was a very hard day for the £256 million, as it was also the answer to the question of student hardship and mental health support for the coming academic year. It probably needed a little lie down after that, but it was back at work on 30 September, against student hardship, and on 1 October for first-year students and debt worries. The £256 million on 8 October was to cover student wellbeing and mental health, twice, and digital access, and on 12 October it was to cover the affordability and availability of e-books, as well as digital access.

On 13 October, the Government said:

"We have asked providers to prioritise the mental health and wellbeing of students during this period"

and that the DFE had provided them with financial support in the form of £256 million. On 19 October, the £256 million was to support digital and online learning. On 20 October, the Government said that students who are care leavers or estranged from their families can rely on support from the £256 million. On 21 October, it was for accessing counselling and support services, and on 23 October it was for supporting mental health and support services. On 2 November, the DFE was asked whether it was providing additional resources and funding for universities in tier 3 and tier 2 areas. It said that, yes, it was—from the £256 million. Finally, on 9 November, the £256 million was providing support for students who are required to remain at university during Christmas. I forgot to mention that the fund was reduced this year—it would be funny if it was not so serious.

Time and time again, the Government have spurned opportunities to do the right thing and provide concrete help for students. A cohort of young people are looking for emotional and material support, and they have so far found themselves abandoned by this Administration, who shamelessly repeat "£256 million" in response to every single question asked of them about students.

When will the Government finally provide new and adequate funding to be directed towards university hardship funds? The extension of funding for the Student Minds website is welcome, but the mental health challenges facing students are more severe than was anticipated only a few months ago. What further support will the Minister provide? When will the Government properly invest in eradicating digital poverty and ensure that all students have the technology to learn? Will they look again at the proposals for providing free internet access for online learning resources?

I want to take this opportunity to mention the fantastic work of student unions up and down the country. I know from my conversations with them that, although the Government did not anticipate the problems that students and universities would face, they did. They delivered freshers' week, whether online or in person, with extra covid restrictions and at very short notice. That made new students feel welcomed and able to settle in as best they could. They set up covid-secure social spaces so that new students could continue to meet. Many student unions have been delivering food parcels to students while they were self-isolating and in lockdown.

When the lockdown was first introduced in March, the Government refused to get universities around the table to agree a joint approach and offered only the flimsiest of advice. It was the student unions across the UK that launched a campaign to get their universities to commit to no-detriment policies and ensure that students get the grades they deserve. They successfully lobbied universities and accommodation providers to release students from tenancy contracts for accommodation they no longer required. They continue to show their value as a voice and a source of support for the students they represent. What discussions is the Minister having with the NUS so that she can listen to the advice they can give about the real issues facing students right now and support them in the excellent work they are doing?

Students have a right not only to be heard but to be given answers. What is the Minister doing to ensure that universities have plans to make up for lost learning and to guarantee students' learning outcomes for the duration of their degrees? Instead of endlessly issuing guidance, when will she sit down and work with universities and provide the support they need to ensure students get what they are entitled to—what they were promised by universities and the Government?

The Minister has said that the Office for Students regularly reviews online tuition, so how exactly is that being conducted? How many courses in how many universities is it looking at, and how often is it doing that? What is being done about those who need placements to complete their qualifications, many of whom have been badly affected by the pandemic? What is being done to help PhD students who are yet to complete their projects due to covid restrictions but who are running out of funding and are having their requests for extensions refused? What about masters students in a similar position? And please do not refer to the £256 million pot again.