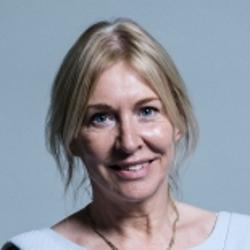 Ms Dorries

- Hansard - - - Excerpts
No, because the hon. Lady will be able to respond at the end of the debate and, without going into a huge amount of detail, I want to address a number of overall points that I feel can be made clear.

First, I thank Baroness Cumberlege for her report, of course. She is sitting in the Public Gallery—watching over me, as she does every day. I am delighted and not surprised that she is here, and we are all grateful to her. The report was commissioned by the then Secretary of State, my right hon. Friend the Member for South West Surrey (Jeremy Hunt), in response to public concern. It examined how the healthcare system in England responded to reports about harmful side-effects from the three specific subjects discussed today. Baroness Cumberlege was asked to chair the review. It is just not possible to do the review justice. It took two years, it was incredibly thorough, and it listened to so many voices on so many complex issues. It is not possible to do this overnight. No review undertaken by any Government on issues as serious as these has been implemented rapidly. They take a lot of discussion, time, evaluation and implementation by the NHS.

The review was published on 8 July 2020 and contains nine strategic recommendations that have wide-ranging implications for the healthcare system. That is why it is not possible to implement them rapidly. I pay tribute to the women and families who bravely shared their experiences and brought these issues to light.

Recommendation 1 was an apology. A year ago, I made that apology, and I will make it again. Having met the patient reference group members, spoken to those who have been harmed and read the report, which makes very harrowing reading, I want to make that apology again. I am desperately sorry. I have heard the stories of harm, which are harrowing. I am desperately sorry for those women who have been harmed. Of course, we all want to ensure that this ends and never happens again. The Government absolutely recognise the need for effective patient engagement to begin to rebuild trust and to ensure that we get the implementation right. That is why we established the patient reference group to work with the Department to develop this response. My officials and I have met the group regularly to gather their insights and to ensure that patient voices are heard as we progress towards a full response, which will be given in this place at the Dispatch Box before the end of this year.

Some Members said that none of the recommendations have been implemented or that we have not paid attention to them. That is simply not true. Recommendation 2 was on the establishment of a patient safety commissioner. I happen to know from discussions with Baroness Cumberlege that it was a prime concern for her that we established that role. As part of the written ministerial statement that I published in January, I announced that the Government had tabled an amendment to the Medicines and Medical Devices Bill before the Christmas recess to establish the role of an independent patient safety commissioner in line with recommendation 2. That is now in law under the Act. The commissioner will promote the safety of patients who use medicines and medical devices by ensuring that the views of the wider public about them are heard. There would be absolutely no point in having a patient safety commissioner if the role was not fully independent. That is what we are working on putting in place now. A public consultation is currently open and running until 5 August. I urge all Members who have spoken today and have constituents who have been affected to respond to that consultation to make sure that their views are known.

Recommendation 5 was on specialist centres, which are in place. There are eight specialist centres, and another will be opening in the south-west of England very shortly. Recommendation 6 was on reform of the Medicines and Healthcare products Regulatory Agency. I have announced that the MHRA has begun a substantial programme of work to improve how it involves patients in all aspects of its work to reform the system. Recommendation 7 was on establishing a medical device information system, again through the Medicines and Medical Devices Act 2021. In line with Baroness Cumberlege's recommendation, this will mean that the NHS can track patients' outcomes and spot issues. Work is under way to build, test and cost options on how a medical device information system could be embedded into the UK healthcare system.

Turning to the recommendations that we do not accept, I was honest when I stood here and said how desperately sorry I was and how harrowing those stories were, and I am not going to stand at this Dispatch Box and say that we are reviewing all the recommendations, which is what has happened in the past. I will be honest: we are not going to accept the redress agency in recommendation 3, or the taskforce. No Government have ever asked someone to chair or undertake a review and then asked those who conducted the review to implement the recommendations on behalf of the Government. That has never happened before. It is the responsibility of the Opposition to hold me to account and it is our responsibility as Ministers to implement the recommendations that the Government see fit to implement.

The Cumberlege report is a document that vividly shows the importance of patient safety and of listening to women. It is incredibly important that we listen to women. I am delighted that many people today have highlighted the adverse situations that many women experience, suffer and have to endure because they are women. It is absolutely right to say that many women are not listened to, and the hon. Member for Central Ayrshire (Dr Whitford) also made that point. This was the substance of the report by Baroness Cumberlege. Women are not listened to, and they have not been listened to. The women's health strategy was not a recommendation but it was seriously influenced by Baroness Cumberlege's review. That is why I established the women's health strategy, and 112,000 women responded. It was not one of the recommendations, but we implemented it because women's voices have to be heard.