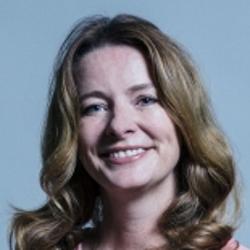 Gillian Keegan (Chichester) (Con)

- Hansard - - - Excerpts
I wanted to speak in this debate to add my voice to those who are rightly celebrating sexual orientation and gender identity diversity on Friday 17 May all over the world. I also wanted personally to support my excellent parliamentary neighbour, my right hon. Friend the Member for Arundel and South Downs (Nick Herbert), who has done so much work, in this House and around the world, to raise awareness of and campaign on the issue.

I am proud that the UK is a leader in the field of LGBTQI equality, but much more progress is needed to ensure that we all live in an open and tolerant society. We are making good progress in this place, as we have the highest number of LGBT MPs elected to a Parliament. The Conservative party is also making great progress. I remember knocking on doors a few years ago when many people were concerned about gay marriage, but when I asked a recent open meeting of Conservative members in my constituency how many of them were concerned about gay marriage, only two people put their hands up, and even they did so very reluctantly. Attitudes are changing. They take a long time to change, but when they change they change very quickly. What we have heard today is evidence of that.

One of the most worrying statistics I have heard recently comes from Stonewall, which says that more than one third of LGBT+ staff do not feel confident enough to come out in their place of work. The figure for trans staff members is higher, at 51%. Given that many more people feel safe to come out at university or even at school, it is a concern that people feel that they have to go back into the closet at work. This should be a wake-up call to everybody who has responsibility for managing a place of work.

We need people to bring their best and most confident self to work. The fact that so many LGBT+ staff members do not feel comfortable being out at work means that companies and we as a country are losing out. How so? We know from academic studies that diverse organisations are more successful than those that are not. They make better decisions because they get a wider range of inputs. They are more in touch with their stakeholders, customers and employees. In short, discrimination costs us dearly, not just because of the harm it does to the individual concerned, but because it prevents people from being at their very best by simply being themselves.

Discrimination is harmful not only to the individual concerned, but to society as a whole. Discrimination has unpleasant companions, namely bullying and self-harm. Bullying is not only distressing and isolating; it can also affect education and damage mental health. It is welcome that we are now investing £3 million to help primary and secondary schools across the country to eradicate this type of bullying. According to the Trevor Project, each episode of LGBTQ victimisation, whether physical or verbal harassment, increases the likelihood of self-harming behaviour by two and a half times on average. LGBTQ youth are almost five times more likely to attempt suicide than their heterosexual counterparts. That is just not okay.

I was really pleased with the creation of a LGBT support group in Chichester, which started in February. I spoke to the group in preparing for this debate after being told about it by one of my own party members, Christopher Baldock. The support group was set up by Melissa Hamilton, a local trans woman. Growing up as trans she was met with a wall of apathy, and she found there were no adult services to support her. She told me that a common response was, "Why don't you just head to Brighton?" I am delighted that she stayed in Chichester and set this group up.